Your position :
Home
>
Products Center
>
Products Introduction
>
Conductor
Conductor
Conductor :

ACS-Aluminum Clad Steel Wire (Alumoweld)
Certificate: ISO 9001
Supply Ability: 5000km/Month
Packaging Details: Wood Drum, Wood-metal Drum or Metal Drum.
Port: Qingdao / Tianjin/ Ningbo / Shanghai


Send message

ht@htcable.cn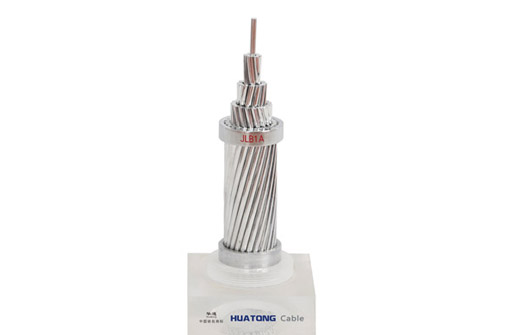 ■Feature
Corrosion resistant in industrial, semi-industrial and marine environments
Superior to aluminized steel
Light weight
Same tensile strength as extra high strength steel but weighs 15 percent less
Excellent conductivity–much more conductive than galvanized steel and aluminum
■Application
Aluminum-Clad Steel Wire Strand Conductor is a bimetallic wire which steel wire is covered by Aluminum evenly with advantages of good. electric conductivity, anti corrosion, good high frequency transmission and high intensity. Aluminum-coated steel core aluminum stranded wire is a stranded wire which strands Aluminum-Clad Steel wire as reinforce core with aluminum wire.
Compared with common Aluminum conductor steel reinforced, Aluminum-Clad Steel Wire Strand Conductor has the following advantages of 5% weight reducing, 2-3% load increase, 4-6%electric loss reduction, longer life and no extra cost. It is widely used for electric transmission line conductors, especially for coastal areas, salt alkali beach, grade 3 or grade 4 polluted industrial zone and the place with requirement of enlarged Aluminum steel cross-section ratio.
■Structure
Aluminum-Clad Steel wires are concentrically stranded and wrapped helically around a central wire. Each successive layer has six wires more than the previous underlying layer. Outer layer is right or left hand lay and reversed in successive layers.
■Standard
Products can be manufactures according to IEC standard,ASTM standard,BS standard,DIN and other standard and customizable cable.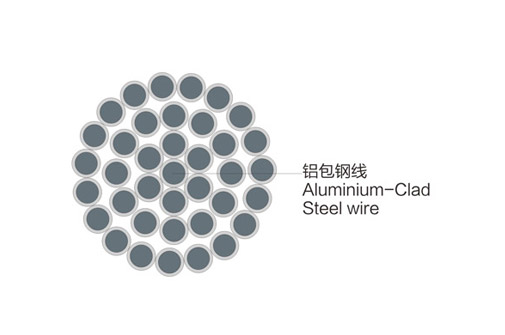 ■Download

■
ASTM B416 Standard
Code Number
Area
No.of wires
Diameter
Weight
Rated Strengh
Max.D.C. Resistance at 20℃
Wire
Cond.

 
mm2
 
mm
mm
kg/km
kN

Ω/km

3 N0 5Awg.

50.32
3
4.62
9.96
334.1
54.42
1.699
3 No 6Awg.

39
3
4.11
8.87
265.0
45.74
2.142
3 N0 7Awg.

31.65
3
3.67
7.9
210.1
38.36
2.701
3 No 8Awg.

25.1
3
3.26
7.03
166.7
32.06
3.406
3 N0 9Awg.

19.9
3
2.91
6.26
132.2
25.43
4.294
3 N0 10Awg.

15.78
3
2.59
5.58
104.8
20.16
5.415
7 N0 5Awg.

117.4
7
4.62
13.9
781.l
120.27
0.7426
7 N0 6Awg.

93.1
7
4.11
12.4
619.5
101.14
0.9198
7 N0 7Awg.

73.87
7
3.67
11
491.1
84.81
1.160O
7 No 8Awg.

58.56
7
3.26
9.78
389.6
70.88
1.463
7 N0 9Awg.

46.44
7
2.91
8.71
308.9
56.2
1.844
7 N0 10Awg.

36.83
7
2.59
7.76
245.1
44.58
2.325
7 No l1Awg.

29.21
7
2.3
6.91
194.4
35.35
2.932
7 N0 12Awg.

23.16
7
2.05
6.16
154.2
28.03
3.697
19 No 5Awg.

318.7
19
4.62
23.1
2129.0
326.39
0.2698
19 N0 6Awg.

252.7
19
4.11
20.6
1688.0
274.55
0.3402
19 N0 7Awg.

200.4
19
3.67
18.3
1339.0
230.18
0.429
1g N0 8Awg.

158.9
19
3.26
16.3
1062.0
192.41
0.5409
19 N0 9Awg.

126.1
19
2.91
14.5
842.0
152.58
0.6821
19 N0 10Awg.

99.96
19
2.59
12.9
667.7
121.00
0.8601
37 N0 5Awg.

620.6
37
4.62
32.3
4170.0
635.43
0.1394
37 Na 6Awg.

492.2
37
4.11
28.8
3307.0
534.85
0.1757
37 N0 7Awg.

390.3
37
3.67
25.7
2623.0
448.09
0.2216
37 No aAwg.

309.5
37
3.26
22.9
2080.0
374.67
0.2794
37 N0 9Awg.

245.5
37
2.91
20.3
1649.0
279.11
0.3523
37 N0 10Awg.

194.7
37
2.59
17.9
1308.0
235.61
0.4443
Email: 623227522@qq.com
Tel: +86-18637911633
Fax: 0379-67522688