Your position :
Home
>
Products Center
>
Products Introduction
>
Conductor
Conductor
Conductor :

AAC- All Aluminum conductor
Certificate: ISO 9001
Supply Ability: 5000km/Month
Packaging Details: Wood Drum, Wood-metal Drum or Metal Drum.
Port: Qingdao / Tianjin/ Ningbo / Shanghai


Send message

ht@htcable.cn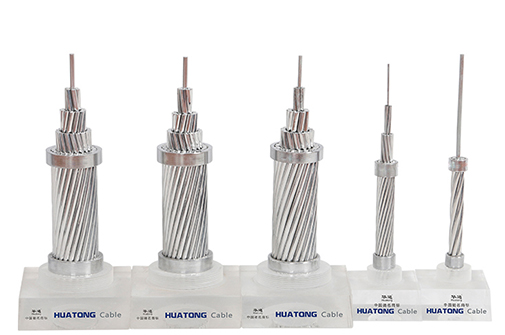 ■Feature
Dimensional accuracy
Excellent conductor of heat and electricity
Efficient performance
Advanced electrical properties
■Application
Conductor AAC has been widely used in power transmission lines with various voltage levels, because they have such good characteristics as simple structure, convenient installation and maintenance, low cost large transmission capacity , And they are also suitable for laying across rivers valleys and the places where special geographical features exist. It is mainly used for electric distribution lines with little span, less stress. Temperature for continuous use is up to 75 ℃.
■Structure
Bare AAC wire is a concentric-lay-stranded conductor consisting of hard drawn aluminum wires available in both single layer and multi-layer constructions. Huatong AAC conductor ensuring purity of min.99.55% 1350-H19 Aluminum. Temperature for continuous use is up to 75℃.Aluminum 1350 wires are concentrically stranded and wrapped helically around a central wire. Each successive layer has six wires more than the previous underlying layer.
■Standard
Products can be manufactures according to IEC standard,ASTM standard, BS standard,DIN and other standard and customizable cable.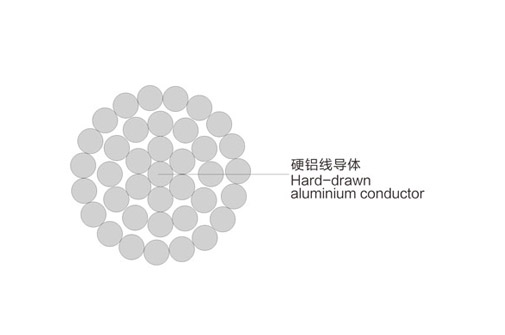 ■Download

■
ASTM B231
Code word
Size of Conductor
Stranding and Wire Diameter
Overall Diameter
Max.D.C. Resistance at 20°C
AWG or MCM
mm
mm
ohm/km
Peachbell
6
7/1.554
4.67
2.1692
Rose
4
7/1.961
5.89
1.3624
Lris
2
7/2.474
7.42
0.8577
Pansey
1
7/2.776
8.33
0.6801
Poppy
1/0
7/3.119
9.36
0.5390
Aster
2/0
7/3.503
10.51
0.4276
Phlox
3/0
7/3.932
11.80
0.3390
Oxlip
4/0
7/4.417
13.26
0.2688
Valerian
250
19/2.913
14.57
0.2275
Sneezewort
250
7/4.80
14.4
0.2275
Laurel
266.8
19/3.01
15.05
0.2133
Daisy
266.8
7/4.96
14.9
0.2133
Peony
300
19/3.193
15.97
0.1896
Tulip
336.4
19/3.381
16.91
0.1691
Daffodil
350
19/3.447
17.24
0.1625
Canna
397.5
19/3.673
18.36
0.1431
Goldentuft
450
19/3.909
19.55
0.1264
Syringa
477
37/2.882
20.19
0.1193
Cosmos
477
19/4.023
20.12
0.1193
Hyacinth
500
37/2.951
20.65
0.1138
Zinnia
500
19/4.12
20.6
0.1138
Dahlia
556.5
19/4.346
21.73
0.1022
Mistletoe
556.5
37/3.114
21.79
0.1022
Meadowsweet
600
37/3.233
22.63
0.0948
Orchid
636
37/3.33
23.31
0.0894
Heuchera
650
37/3.366
23.56
0.0875
Flag
700
61/2.72
24.48
0.0813
Code word
Size of Conductor
Stranding and Wire Diameter
Overall Diameter
Max.D.C. Resistance at 20°C
AWG or MCM
mm
mm
ohm/km
Verbena
700
37/3.493
24.45
0.0813
Nasturtium
715.5
61/2.75
24.76
0.0795
Violet
715.5
37/3.533
24.74
0.0795
Cattail
750
61/2.817
25.35
0.0759
Petunia
750
37/3.617
25.32
0.0759
Lilac
795
61/2.90
26.11
0.0715
Arbutus
795
37/3.724
26.06
0.0715
Snapdragon
900
61/3.086
27.78
0.0632
Cockscomb
900
37/3.962
27.73
0.0632
Goldenrod
954
61/3.177
28.6
0.0596
Magnolia
954
37/4.079
28.55
0.0596
Camellia
1000
61/3.251
29.36
0.0569
Hawkweed
1000
37/4.176
29.23
0.0569
Larkspur
1033.5
61/3.307
29.76
0.0550
Bluebell
1033.5
37/4.244
29.72
0.0550
Marigold
1113
61/3.432
30.89
0.0511
Hawthorn
1192.5
61/3.551
31.05
0.0477
Narcissus
1272
61/3.668
33.02
0.0477
Columbine
1351.5
61/3.78
34.01
0.0421
Carnation
1431
61/3.89
35.03
0.0398
Gladiolus
1510.5
61/4.00
35.09
0.0376
Coreopsis
1590
61/4.099
36.51
0.03568
Jessamine
1750
61/4.302
38.72
0.0325
Cowslip
2000
91/3.76
41.40
0.02866
Lupine
2500
91/4.21
46.30
0.0230
Trillium
3000
127/3.90
50.75
0.0192
Bluebonnet
3500
127/4.21
54.80
0.01653
Email: 623227522@qq.com
Tel: +86-18637911633
Fax: 0379-67522688