Your position :
Home
>
Products Center
>
Products Introduction
>
Conductor
Conductor
Conductor :

ACAR- Aluminum Conductor Aluminum Alloy reinforced
Certificate: ISO 9001
Supply Ability: 5000km/Month
Packaging Details: Wood Drum, Wood-metal Drum or Metal Drum.
Port: Qingdao / Tianjin/ Ningbo / Shanghai


Send message

ht@htcable.cn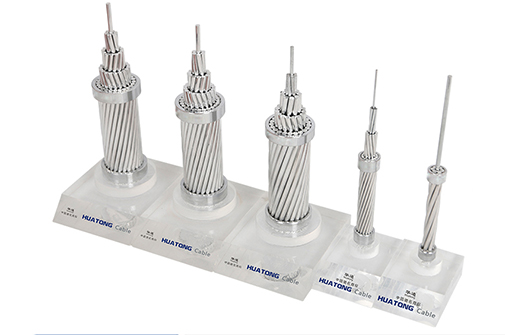 ■Application
The aluminum conductor alloy reinforced(ACAR) is an excellent conductor choice where current carrying capacity, higher strength and a lower conductor weight are critical to the line design. The DC resistance of ACAR is smaller than ACSR, and the Aluminum Conductor Aluminum Alloy Reinforced can be avoided due to the loss of 152 * 104 (a - kW) / (H - 100km), with positive significance for transmission line energy saving. It is mainly used for electric distribution lines with little span, less stress. It has high current carrying capacity and good corrosion performance.
■Structure
The aluminum conductor alloy reinforced(ACAR) has concentrically stranded aluminum 1350-H19 wire around a 6201-T81 aluminum alloy core. Typically, the 6201-T81 is the conductor core, but in certain designs, the 1350 H19 and the 6201-T81 wires may be stranded in the same layer.
■Standard
Products can be manufactures according to IEC standard,ASTM standard,BS standard,DIN and other standard and customizable cable.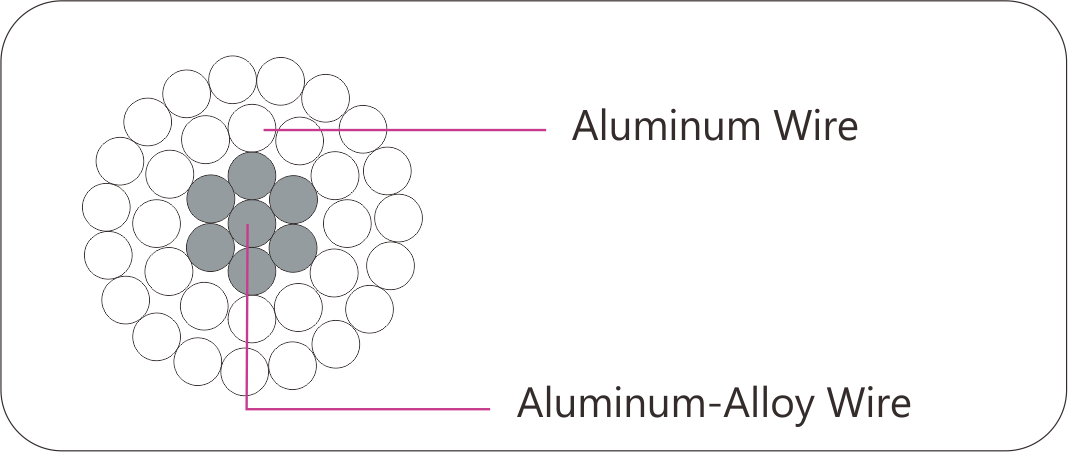 ■Download

■
ASTM B 524 standard
Size of Conductor
Stranding
Conductor
Max.D.C.Resistance of Conductor at 20℃
1350-H19 Al
6201-T81 Al Alloy
Approx. Overall
Approx. Weight
AWG or MCM
No./mm
No./mm
mm
kg/km
ohm/km
30.6
4/1.679
3/1.679
5.03
43
1.983
4
4/1.961
3/1.961
5.89
59
1.454
48.7
4/2.118
3/2.118
6.35
68
1.246
2
4/2.474
3/2.474
7.42
93
0.913
77.5
4/2.672
3/2.672
8.03
109
0.721
1/0
4/3.119
3/3.119
9.35
148
0.575
123.3
4/3.371
3/3.371
10.11
173
0.492
2/0
4/3.503
3/3.503
10.52
187
0.455
155.4
4/3.785
3/3.785
11.35
218
0.39
3/0
4/3.932
3/3.932
11.8
235
0.361
195.7
4/4.247
3/4.247
12.74
274
0.31
4/0
4/4.417
3/4.417
13.25
297
0.286
246.9
4/4.77
3/4.77
14.31
346
0.245
250
15/2.913
4/2.913
14.56
350
0.235
250
12/2.913
7/2.913
14.56
350
0.24
300
15/3.193
4/3.193
15.96
420
0.195
300
12/3.193
7/3.193
15.96
420
0.2
350
15/3.447
4/3.447
17.24
490
0.168
350
12/3.447
7/3.447
17.24
490
0.172
400
15/3.685
4/3.685
18.44
560
0.147
400
12/3.685
7/3.685
18.44
560
0.135
450
15/3.909
4/3.909
19.55
630
0.13
450
12/3.909
7/3.909
19.55
630
0.133
500
15/4.120
4/4.120
20.6
700
0.117
500
12/4.120
7/4.120
20.6
700
0.12
500
33/2.951
4/2.951
20.65
700
0.116
500
30/2.951
7/2.951
20.65
700
0.117
500
24/2.951
13/2.951
20.65
700
0.12
500
18/2.951
19/2.951
20.65
700
0.123
550
15/4.321
4/4.321
21.66
770
0.107
550
12/4.321
7/4.321
21.66
770
0.11
550
33/3.1
4/3.1
21.66
770
0.105
550
30/3.1
7/3.1
21.66
770
0.106
550
24/3.1
13/3.1
21.66
770
0.109
550
18/3.1
19/3.1
21.66
770
0.111
600
15/4.513
4/4.513
22.58
840
0.0978
600
12/4.513
7/4.513
22.58
840
0.1
600
33/3.23
4/3.23
22.63
840
0.096
600
30/3.23
7/3.23
22.63
840
0.097
600
24/3.23
13/3.23
22.63
840
0.1
600
18/3.23
19/3.23
22.63
840
0.102
650
33/3.36
4/3.36
23.57
910
0.089
650
30/3.36
7/3.36
23.57
910
0.09
650
24/3.36
13/3.36
23.57
910
0.092
650
18/3.36
19/3.36
23.57
910
0.095
700
33/3.49
4/3.49
24.46
980
0.083
700
30/3.49
7/3.49
24.46
980
0.084
700
24/3.49
13/3.49
24.46
980
0.086
700
18/3.49
19/3.49
24.46
980
0.088
750
33/3.62
4/3.62
25.32
1050
0.077
750
30/3.62
7/3.62
25.32
1050
0.078
750
24/3.62
13/3.62
25.32
1050
0.08
750
18/3.62
19/3.62
25.32
1050
0.082
800
33/3.73
4/3.73
26.15
1120
0.072
800
30/3.73
7/3.73
26.15
1120
0.073
800
24/3.73
13/3.73
26.15
1120
0.075
800
18/3.73
19/3.73
26.15
1120
0.077
850
33/3.85
4/3.85
26.95
1190
0.068
850
30/3.85
7/3.85
26.95
1190
0.069
850
24/3.85
13/3.85
26.95
1190
0.071
850
18/3.85
19/3.85
26.95
1190
0.072
900
33/3.96
4/3.96
27.75
1260
0.064
900
30/3.96
7/3.96
27.75
1260
0.065
900
24/3.96
13/3.96
27.75
1260
0.067
900
18/3.96
19/3.96
27.75
1260
0.068
950
33/4.07
4/4.07
28.5
1330
0.061
950
30/4.07
7/4.07
28.5
1330
0.062
950
24/4.07
13/4.07
28.5
1330
0.063
950
18/4.07
19/4.07
28.5
1330
0.065
1000
33/4.17
4/4.17
29.3
1400
0.058
1000
30/4.17
7/4.17
29.3
1400
0.059
1000
24/4.17
13/4.17
29.3
1400
0.06
1000
18/4.17
19/4.17
29.3
1400
0.061
1000
54/3.25
7/3.25
29.32
1397
0.058
1000
48/3.25
13/3.25
29.32
1397
0.059
1000
42/3.25
19/3.25
29.32
1397
0.06
1000
33/3.25
28/3.25
29.32
1397
0.061
1100
33/4.38
4/4.38
30.65
1540
0.053
1100
30/4.38
7/4.38
30.65
1540
0.053
1100
24/4.38
13/4.38
30.65
1540
0.054
1100
18/4.38
19/4.38
30.65
1540
0.056
1100
54/3.41
7/3.41
30.7
1540
0.053
1100
48/3.41
13/3.41
30.7
1540
0.054
1100
42/3.41
19/3.41
30.7
1540
0.055
1100
33/3.41
28/3.41
30.7
1540
0.055
1200
33/4.57
4/4.57
32
1680
0.048
1200
30/4.57
7/4.57
32
1680
0.049
1200
24/4.57
13/4.57
32
1680
0.05
1200
18/4.57
19/4.57
32
1680
0.051
1200
54/3.56
7/3.56
32.1
1680
0.048
1200
48/3.56
13/3.56
32.1
1680
0.049
1200
42/3.56
19/3.56
32.1
1680
0.05
1200
33/3.56
28/3.56
32.1
1680
0.051
1250
33/4.67
4/4.67
32.7
1750
0.046
1250
30/4.67
7/4.67
32.7
1750
0.047
1250
24/4.67
13/4.67
32.7
1750
0.048
1250
18/4.67
19/4.67
32.7
1750
0.049
1250
54/3.63
7/3.63
32.72
1750
0.046
1250
48/3.63
13/3.63
32.72
1750
0.047
1250
42/3.63
19/3.63
32.72
1750
0.048
1250
33/3.63
28/3.63
32.72
1750
0.049
1300
33/4.76
4/4.76
33.33
1820
0.044
1300
30/4.76
7/4.76
33.33
1820
0.045
1300
24/4.76
13/4.76
33.33
1820
0.046
1300
18/4.76
19/4.76
33.33
1820
0.047
1300
54/3.71
7/3.71
33.38
1825
0.044
1300
48/3.71
13/3.71
33.38
1825
0.045
1300
42/3.71
19/3.71
33.38
1825
0.046
1300
33/3.71
28/3.71
33.38
1825
0.047
1400
54/3.85
7/3.85
34.65
1960
0.041
1400
48/3.85
13/3.85
34.65
1960
0.042
1400
42/3.85
19/3.85
34.65
1960
0.043
1400
33/3.85
28/3.85
34.65
1960
0.044
1500
54/3.98
7/3.98
35.85
2100
0.039
1500
48/3.98
13/3.98
35.85
2100
0.0395
1500
42/3.98
19/3.98
35.85
2100
0.04
1500
33/3.98
28/3.98
35.85
2100
0.041
1600
54/4.11
7/4.11
37.05
2240
0.036
1600
48/4.11
13/4.11
37.05
2240
0.037
1600
42/4.11
19/4.11
37.05
2240
0.037
1600
33/4.11
28/4.11
37.05
2240
0.038
1700
54/4.24
7/4.24
38.15
2380
0.034
1700
48/4.24
13/4.24
38.15
2380
0.0354
1700
42/4.24
19/4.24
38.15
2380
0.035
1700
33/4.24
28/4.24
38.15
2380
0.036
1750
54/4.30
7/4.30
38.75
2450
0.033
1750
48/4.30
13/4.30
38.75
2450
0.0335
1750
42/4.30
19/4.30
38.75
2450
0.034
1750
33/4.30
28/4.30
38.75
2450
0.035
1800
54/4.36
7/4.36
39.3
2520
0.032
1800
48/4.36
13/4.36
39.3
2520
0.0325
1800
42/4.36
19/4.36
39.3
2520
0.033
1800
33/4.36
28/4.36
39.3
2520
0.034
1900
54/4.48
7/4.48
40.35
2660
0.0305
1900
48/4.48
13/4.48
40.35
2660
0.031
1900
42/4.48
19/4.48
40.35
2660
0.0315
1900
33/4.48
28/4.48
40.35
2660
0.032
2000
54/4.60
7/4.60
41.4
2800
0.029
2000
48/4.60
13/4.60
41.4
2800
0.0295
2000
42/4.60
19/4.60
41.4
2800
0.03
2000
33/4.60
28/4.60
41.4
2800
0.0305
2000
72/3.76
19/3.76
41.4
2795
0.0295
2000
63/3.76
28/3.76
41.4
2795
0.03
2000
54/3.76
37/3.76
41.4
2795
0.0305
2250
72/3.99
19/3.99
43.9
3175
0.0265
2250
63/3.99
28/3.99
43.9
3175
0.0267
2250
54/3.99
37/3.99
43.9
3175
0.027
2500
72/4.21
19/4.21
46.3
3530
0.023
2500
63/4.21
28/4.21
46.3
3530
0.024
2500
54/4.21
37/4.21
46.3
3530
0.0245
2750
72/4.41
19/4.41
48.55
3880
0.0215
2750
63/4.41
28/4.41
48.55
3880
0.022
2750
54/4.41
37/4.41
48.55
3880
0.0222
3000
72/4.61
19/4.61
50.75
4240
0.0197
3000
54/4.61
28/4.61
50.75
4240
0.02
3000
63/4.61
37/4.61
50.75
4240
0.0203
Email: 623227522@qq.com
Tel: +86-18637911633
Fax: 0379-67522688