Your position :
Home
>
Products Center
>
Products Introduction
>
Conductor
Conductor
Conductor :

TACSR-Thermal Resistance Aluminum Alloy Conductor Steel Reinforced
Certificate: ISO 9001
Supply Ability: 5000km/Month
Packaging Details: Wood Drum, Wood-metal Drum or Metal Drum.
Port: Qingdao / Tianjin/ Ningbo / Shanghai


Send message

ht@htcable.cn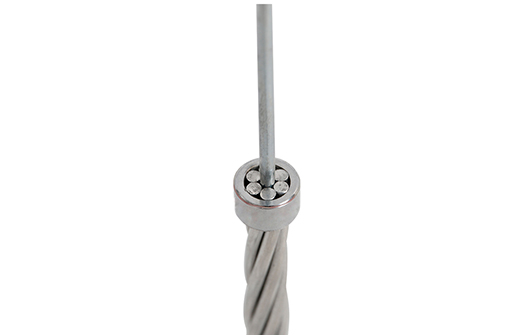 ■Feature
TACSR can be safely operated continuously above 150℃ enabling to pump more current through the conductor. Where there is a need to transmit higher power but restrictions on getting new power corridors approved, various types of TAL conductors are one of the best creative solution options to utilities. Ability of the Zirconium doped aluminum alloy to maintain its electrical and mechanical properties at elevated temperatures makes these conductors a very cost effective solution in refurbishing the existing lines with enhanced capacity.
■Application
TACSR could withstand high tensile load to be used mainly for overhead transmission lines, overhead distribution wire.
■Structure
The center wire or wires are of galvanized steel and the outer layer or layers of thermal-resistant aluminum-alloy. TACSR Conductors are very similar in construction to a conventional ACSR conductor but the EC Grade Aluminum wires are replaced with Hard Drawn Aluminum wires of Heat Resistant Aluminum Alloy (generally known as TAL )
■Standard
Products can be manufactures according to IEC standard, ASTM standard,BS standard, DIN and other standard and customizable cable.
■Download

■
ASTM B232 Standard
TACSR (Thermal Resistance Aluminium Alloy Conductor Steel Reinforced)

Nominal Cross
Sectional Area
No/Dia of Wire
Cross Sectional Area
Approximately
DC Resistance at 20 ℃, max
Calculated Breaking Load, min
Current Carrying Capacity *)




Standard Delivery Length
TAL Wire
AS Wire
TAL Wire
AS Wire
Total
Overall Dia.

Net Weight
No./mm
mm2
mm
kg/km
Ω/km
Kgf
N
A
m
58
6/3.5
1/3.5
57.73
9.52
67.35
10.5
234
0.5050
1,980
19,423
375
5,000
80
6/4.2
1/4.2
83.13
13.85
96.98
12.6
336
0.3500
2,770
27,173
480
5,000
80
15/2.6
4/2.6
79.64
21.24
100.88
13.0
386
0.3680
3,810
37,376
470
5,000
95
6/4.5
1/4.5
95.43
15.90
111.33
13.5
386
0.3050
3,180
31,195
525
5,000
100
15/2.9
4/2.9
99.08
26.42
125.50
14.5
480
0.2960
4,740
46,499
545
5,000
120
15/3.2
4/3.2
120.64
32.17
152.81
16.0
585
0.2430
5,550
54,445
620
5,000
120
30/2.3
7/2.3
124.64
29.08
153.72
16.1
574
0.2370
5,460
53,562
630
5,000
160
30/2.6
7/2.6
159.28
37.17
196.45
18.2
734
0.1850
6,980
68,473
745
3,000
200
30/2.9
7/2.9
198.16
46.24
244.40
20.3
912
0.1490
8,680
85,150
860
3,000
240
30/3.2
7/3.2
241.27
56.30
297.57
22.4
1111
0.1220
10,170
99,767
980
2,000
330
26/4.0
7/3.1
326.73
52.83
379.56
25.3
1320
0.0901
10,940
107,321
1,190
2,000
410
26/4.5
7/3.5
413.51
67.35
480.86
28.5
1674
0.0712
13,900
136,359
1,390
1,500
520
54/3.5
7/3.5
519.54
67.35
586.89
31.5
1969
0.0567
15,590
152,937
1,610
1,500
610
54/3.8
7/3.8
612.42
79.39
691.81
34.2
2321
0.0481
18,380
180,307
1,795
1,000
680
54/4.0
7/4.0
678.58
87.96
766.54
36.0
2572
0.0434
19,790
194,139
1,920
1,000
680
45/4.4
7/2.9
684.24
46.24
730.48
35.1
2260
0.0431
15,590
152,937
1,910
1,000
810
45/4.8
7/3.2
814.30
56.30
870.60
38.4
2700
0.0362
18,460
181,092
2,145
1,000
1160
84/4.2
7/4.2
1163.77
96.98
1,260.75
46.2
3997
0.0254
27,870
273,404
2,700
500
1520
84/4.8
7/4.8
1520.03
126.67
1,646.70
52.8
5221
0.0195
36,410
357,182
3,185
500
Note: Continuous operating temperature of conductor = 80℃, Air temperature = 35℃, wind velocity = 0.6 m/sec
Email: 623227522@qq.com
Tel: +86-18637911633
Fax: 0379-67522688