Your position :
Home
>
Products Center
>
Products Introduction
>
Power Cable
Power Cable
Power Cable :

Low Voltage NFC 33-209 Aerial Bunched Cable
Nominal Voltage: 0.6/1kv
Certificate: ISO 9001
Supply Ability: 4000km/Month
Packaging Details: Wood-metal Drum or Metal Drum.


Send message

ht@htcable.cn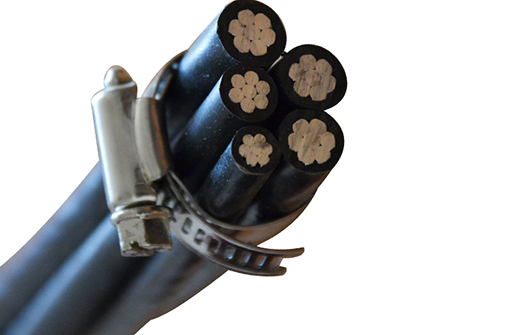 ■Application
The products applies to the lines of 0.6/1kv, aerial insulated cable for overhead power distribution lines, admissible long-term operating temperature for conductor of cable for PE insulated, not exceed 70℃, For XLPE insulation, not exceed 90℃.
■Structure
The products is also called insulated ABC Cable, suitable for aluminum core or aluminum alloy core weatherproof PE and XLPE insulated overhead cable under AC rated voltage of 1kv in overhead power line. 0.6/1kv Aerial Insulated Cable consists of Aluminum, Aluminum alloy Core, PE/XLPE Insulation.
■Download

■NFC 33-209
DESCRIPTION
INSULATED CONDUCTORS
Average
insulation
Thickness
CABLE BUNDLE
Type
Nominal
Cross
Section
Wire
Number
in the
Conductor
Maximum
Resistance
at 20℃
Average
Diameter of
Conductors
Rated Strength

Overall Diameter

mm2
Minimum
Ohm/km
Min.
mm
Max.
mm
Min kN
mm
Min. mm
Max.
mm
Phase
neutral
and
public
lighting
16
7
1.91
4.6
5.1
1.9
1.2
7
7.8

25
7
1.2
5.8
6.3
3
1.4
8.6
9.4

35
7
0.868
6.8
7.3

-

1.6
10
10.9

50
7
0.641
7.9
8.4

-

1.6
11.1
12

70
12
0.443
9.7
10.2

-

1.8
13.3
14.2

95
19
0.32
11
12

-

1.8
14.6
15.7

120
19
0.253
12
13.1

-

1.8
15.6
16.7

150
19
0.206
13.9
15

-

1.7
17.3
18.6
Porter
54.6
7
0.63
9.2
9.6
16.6
1.6
12.3
13

70
7
0.5
10
10.2
20.5
1.5
12.9
13.6

95
19
0.343
12.2
12.9
27.5
1.6
15.3
16.3
Nominal Area
Number /Dia.

Insulation Thickness
Dcresistance PHASE
NEUTRAL Rated Strength kn
Delivery Lerngth
mm2
mm
mm

&Ω/km

AAC
AAAC
km
1×16+16
7/1.70
1.3
1.7986
3.02
4.69
10.0
2×16+16
7/1.70
1.3
1.7986
3.02
4.69
7.5
3×16+16
7/1.70
1.3
1.7986
3.02
4.69
5.0
4×16
7/1.70
1.3
1.7986
3.02
4.69
5.0
1×25+25
7/2.10
1.3
1.1787
4.36
7.15
6.5
2×25+25
7/2.10
1.3
1.1787
4.36
7.15
5.0
3×25+25
7/2.10
1.3
1.1787
4.36
7.15
3.2
4×25
7/2.10
1.3
1.1787
4.36
7.15
3.2
1×35+35
7/2.50
1.3
0.8317
6.01
10.14
4.5
2×35+35
7/2.50
1.3
0.8317
6.01
10.14
3.5
3×35+35
7/2.50
1.3
0.8317
6.01
10.14
2.2
4×35
7/2.50
1.3
0.8317
6.01
10.14
2.2
1×50+50
7/3.0
1.5
0.5776
8.41
14.60
3.0
3×50+50
7/3.0
1.5
0.5776
8.41
14.60
1.3
1×70+70
19/2.10
1.5
0.4367
11.85
19.41
2.2
3×70+70
19/2.10
1.5
0.4367
11.85
19.41
0.8
3×95+95
19/2.50
1.6
0.3081
16.32
27.51
0.5
Code Word
 
 
3×25mm2+ 1×54.6mm2
3×35mm2+ 1×54.6mm2
3×50mm2+ 1×54.6mm2
3×70mm2+ 1×54.6mm2
3×35mm2+1×54.6mm2+1×16mm2
3×70mm2+1×54.6mm2+1×16mm2
3×70+1×70mm2
Phase Conductor
Cross Section (mm)

 
25
35
50
70
35
70
70
Number of Wires
 
7
7
7
12
7
12
12
Insulation Thickness (mm)

 
1.4
1.6
1.6
1.8
1.6
1.8
1.8
D.C.Resistance At 20 ℃(Ohm/km)

 
1.2
0.868
0.641
0.443
0.868
0.443
0.443
Minium Rated Strength(daN)

 
300

-

-

-

-

-

-

Messenger
Cross Section (mm)

 
54.6
54.6
54.6
54.6
54.6
54.6
70
Number of Wires
 
7
7
7
7
7
7
7
Insulation Thickness (mm)

 
1.6
1.6
1.6
1.6
1.6
1.6
1.5
D.C.Resistance At 20 ℃(Ohm/km)

 
0.63
0.63
0.63
0.63
0.63
0.63
0.5
Minium Rated Strength(daN)

 
1660
1660
1660
1660
1660
1660
2050
Public Lighting
Cross Section (mm)

 

-

-

-

-

16
16

-

Number of Wires
 

-

-

-

-

7
7

-

Insulation Thickness (mm)

 

-

-

-

-

1.2
1.2

-

D.C.Resistance At 20 ℃(Ohm/km)

 

-

-

-

-

1.91
1.91

-

Minium Rated Strength(daN)

 

-

-

-

-

190
190

-

Conductor Diameter
Phase
Max
6.3
7.3
8.4
10.2
7.3
10.2
10.2
Min
5.8
6.8
7.9
9.7
6.8
9.7
9.7
Messenger
Max
9.6
9.6
9.6
9.6
9.6
9.6
10.2
Min
9.2
9.2
9.2
9.2
9.2
9.2
10
Public Lighting
Max

-

-

-

-

5.1
5.1

-

Min

-

-

-

-

4.6
4.6

-

Overall Diameter
Phase
Max
9.4
10.9
12
14.2
10.9
14.2
14.2
Min
8.6
10
11.1
13.3
10
13.3
13.3
Messenger
Max
13
13
13
13
13
13
13.6
Min
12.3
12.3
12.3
12.3
12.3
12.3
12.9
Public Lighting
Max

-

-

-

-

7.8
7.8

-

Min

-

-

-

-

7.0
7.0

-
Code Word
 
 
3×70mm2+ 1×16mm2
3×95mm2+ 1×70mm2
3×95mm2+ 1×70+ 1×16mm2
3×120mm2+ 1×70mm2
3×120mm2+ 1×70+1×16mm2
3×150mm2+1×70mm2
3×70mm2+1×70mm2+1×16mm2
Phase Conductor
Cross Section (mm)

 
70
95
95
120
120
150
150
Number of Wires
 
12
19
19
19
19
19
19
Insulation Thickness (mm)

 
1.8
1.8
1.8
1.8
1.8
1.7
1.7
D.C.Resistance At 20 ℃(Ohm/km)

 
0.443
0.32
0.32
0.253
0.253
0.206
0.206
Minium Rated Strength(daN)

 

-

-

-

-

-

-

-

Messenger
Cross Section (mm)

 
70
70
70
70
70
70
70
Number of Wires
 
7
7
7
7
7
7
7
Insulation Thickness (mm)

 
1.5
1.5
1.5
1.5
1.5
1.5
1.5
D.C.Resistance At 20 ℃(Ohm/km)

 
0.50
0.50
0.50
0.50
0.50
0.50
0.50
Minium Rated Strength(daN)

 
2050
2050
2050
2050
2050
2050
2050
Public Lighting
Cross Section (mm)

 
16

-

16

-

16

-

16
Number of Wires
 
7

-

7

-

7

-

7
Insulation Thickness (mm)

 
1.2

-

1.2

-

1.2

-

1.2
D.C.Resistance At 20 ℃(Ohm/km)

 
1.91

-

1.91

-

1.91

-

1.91
Minium Rated Strength(daN)

 
190

-

190

-

190

-

190
Conductor Diameter
Phase
Max
10.2
12.0
12.0
13.1
13.1
15.0
15.0
Min
9.7
11.0
11.0
12.0
12.0
13.9
13.9
Messenger
Max
10.2
10.2
10.2
10.2
10.2
10.2
10.2
Min
10
10
10
10
10
10
10
Public Lighting
Max
5.1

-

5.1

-

5.1
5.1
5.1
Min
4.6

-

4.6

-

4.6
4.6
4.6
Overall Diameter
Phase
Max
14.2
15.7
15.7
 
16.7
16.7
18.6
Min
13.3
14.6
14.6
 
15.6
15.6
17.3
Messenger
Max
13.6
13.6
13.6
 
13.6
13.6
13.6
Min
12.9
12.9
12.9
 
12.9
12.9
12.9
Public Lighting
Max
7.8

-

7.8
 
7.8
7.8
7.8
Min
7.0

-

7.0
 
7.0
7.0
7.0
Email: 623227522@qq.com
Tel: +86-18637911633
Fax: 0379-67522688