Your position :
Home
>
Products Center
>
Products Introduction
>
Power Cable
Power Cable
Power Cable :

Medium Voltage XLPE Insulated Armoured Power Cable
Certificate: ISO 9001
Supply Ability: 3000km/Month
Packaging Details: Wood Drum, Wood-metal Drum or Metal Drum.
Port: Qingdao / Tianjin/ Ningbo / Shanghai


Send message

ht@htcable.cn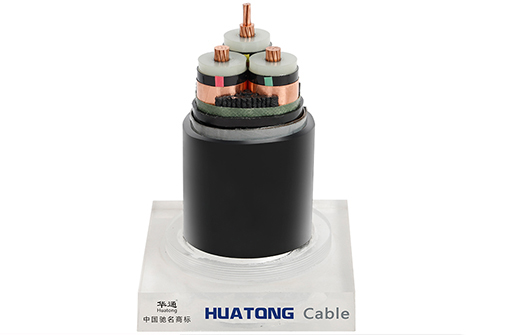 ■Application
Media Voltage XLPE Insulated power cable is used to transmit and distribute power in power transmission and distribution system of 35kV or lower. It is generally applied to the fields including power, construction, mines, metallurgy, petrochemical industry and communication in complete replace of oil immersed paper insulated power cable.
■Structure
Medium Voltage Power Cable consists of Aluminum or Copper Core, XLPE Insulation, Metal armor (Steel Tape, Steel wire) or no-armor, XLPE Sheath.
■Standard
IEC60502,designing and manufacturing special power cable according to the other standards required by the customers.
■Download

■3.6/6(7.2)kV,3.6/6.6(7.2)kV,Three Cores,Al or Cu/XLPE/CTS/STA/PVC Armoured Power Cable
No.X Nominal Cross Section of Conductor

Nominal Diameter of Conductor
Nominal Thickness of Insulation
Nominal Thickness of Copper Tape Screen
Nominal Thickness of Inner Sheath
Nominal Thickness of Steel Tape Armouring
Nominal Thickness of PVC Sheath
Approx. Overall Diameter
Approx. Weight
Al Conductor
Cu Conductor
No. X mm2
mm
mm
mm
mm
mm
mm
mm
kg/m
kg/m
3 X 25
6.0
2.5
0.1
1.2
0.2
1.9
37.9
1.87
2.32
3 X 35
6.9
2.5
0.1
1.3
0.5
2.0
41.5
2.10
2.73
3 X50
8.2
2.5
0.1
1.3
0.5
2.0
44.3
2.37
3.22
3 X 70
9.7
2.5
0.1
1.4
0.5
2.1
47.9
2.77
4.00
3 X 95
11.3
2.5
0.1
1.4
0.5
2.2
51.6
3.21
4.91
3 X 120
12.8
2.5
0.1
1.5
0.5
2.4
55.4
3.69
5.84
3 X 150
14.2
2.5
0.1
1.5
0.5
2.5
58.6
4.15
6.85
3 X 185
15.9
2.5
0.1
1.5
0.5
2.6
62.5
4.73
8.11
3 X 240
18.3
2.6
0.1
1.6
0.5
2.7
68.5
5.62
10.05
3 X 300
20.4
2.8
0.1
1.7
0.5
2.9
74.5
6.55
12.11
3 X 400
23.2
3.0
0.1
1.9
0.8
3.2
83.6
8.78
15.86
3 X 500
26.4
3.2
0.1
2.1
0.8
3.4
93.0
10.52
18.85
■6/10(12)kV,6.35/11(12)kV,,Three Cores,Al or Cu/XLPE/CTS/STA/PVC Armoured Power Cable
No.X Nominal Cross Section of Conductor
Nominal Diameter of Conductor
Nominal Thickness of Insulation
Nominal Thickness of Copper Tape Screen
Nominal Thickness of Inner Sheath
Nominal Thickness of Steel Tape Armouring
Nominal Thickness of PVC Sheath
Approx. Overall Diameter
Approx. Weight
Al Conductor
Cu Conductor
No. X mm2
mm
mm
mm
mm
mm
mm
mm
kg/m
kg/m
3 X 25
6.0
3.4
0.1
1.3
0.5
2.0
43.4
2.16
2.61
3 X 35
6.9
3.4
0.1
1.3
0.5
2.0
45.4
2.36
2.99
3 X50
8.2
3.4
0.1
1.4
0.5
2.2
48.8
2.69
3.54
3 X 70
9.7
3.4
0.1
1.5
0.5
2.3
52.4
3.10
4.33
3 X 95
11.3
3.4
0.1
1.5
0.5
2.4
56.1
3.56
5.26
3 X 120
12.8
3.4
0.1
1.5
0.5
2.5
59.5
4.04
6.19
3 X 150
14.2
3.4
0.1
1.5
0.5
2.6
62.7
4.49
7.19
3 X 185
15.9
3.4
0.1
1.6
0.5
2.6
66.6
5.12
8.49
3 X 240
18.3
3.4
0.1
1.7
0.5
2.8
72.4
5.99
10.42
3 X 300
20.4
3.4
0.1
1.8
0.5
3.0
77.5
6.86
12.42
3 X 400
23.2
3.4
0.1
1.9
0.8
3.2
85.4
8.97
16.05
3 X 500
26.4
3.4
0.1
2.0
0.8
3.4
93.7
10.65
19.50
Email: 623227522@qq.com
Tel: +86-18637911633
Fax: 0379-67522688