Your position :
Home
>
Products Center
>
Products Introduction
>
Power Cable
Power Cable
Power Cable :

Low Voltage Aluminum Covered Line Wire
Capacity50000km/month
Delivery Length customizable length
Packaging Details: Wood Drum, Wood-metal Drum or Metal Drum.
Port: Qingdao / Tianjin/ Ningbo / Shanghai


Send message

ht@htcable.cn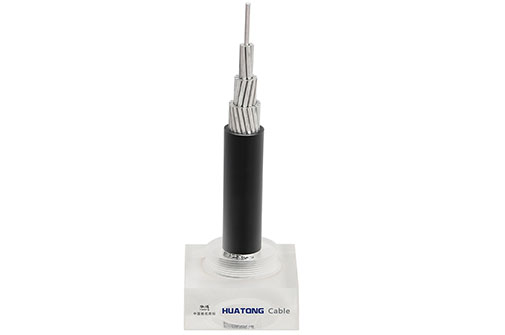 ■Application
Aluminium Covered Line Wire is used primarily for 600V overhead secondary distribution lines, it's not an electrically insulated conductor and is treated as bare conductor when installed used primarily for overhead secondary distribution lines.
■Standard
Products can be manufactures according to IEC standard,ASTM standard,BS standard,DIN and other standard and customizable cable.
■Construction
The conductors are 1350-H19aluminum ,6201-T81 Aluminum Alloy , or ACSR conductors, concentrically stranded and covered for weather proofing with polyethylene, high density polyethylene(HD) or cross linked polyethylene(XLPE).
■Download

Code Name
Size
Stranding
Insulation Thickness
Overall Diameter
Approx. Weight
XLPE
PE
AWG or MCM

-

mil
inch

lbs/1000ft

AAC 1350-H19
Apple
6
Solid
30

.222

33.0
32.0
Pear
4
Solid
30

.264

48.5
47.3
Apricot
4
7/w
30

.285

51.5
50.8
Peach
2
7/w
45

.373

87.1
84.0
Quince
1/0
7/w
60

.477

140.7
135.6
Orange
2/0
7/w
60

.522

171.9
166.2
Fig
3/0
7/w
60

.570

210.5
204.0
Olive
4/0
7/w
60

.626

258.7
251.4
Pomegranate
4/0
19/w
60

.632

254.8
247.9
Mulberry
266.8
19/w
60

.692

313.5
305.8
Anona
336.4
19/w
60

.766

387.6
378.8
Molles
397.5
19/w
75

.852

469.2
457.4
Huckleberry
477.0
37/w
75

.921

550.0
537.5
Paw Paw
556.5
37/w
75

.982

633.0
619.4
Breadfruit
636.0
61/w
95
1.080
742.6
724.7
Persimmon
795.0
61/w
95
1.187
910.0
890.0
Grapefruit
1033.5
61/w
95
1.327
1156.7
1133.8
Code Name
Size
Stranding
Insulation Thickness
Overall Diameter
Approx. Weight
XLPE
PE
AWG or MCM

-

mil
inch

lbs/1000ft

ACSR
Walnut
6
6/1
30

.258

49
47
Butternut
4
6/1
30

.303

71.8
70.0
Hickory
4
7/1
30

.309

81.6
79.8
Pignut
2
6/1
45

.397

118.1
114.8
Beech
2
7/1
45

.405

134.1
130.7
Chestnut
1
6/1
45

.434

145.5
141.8
Almond
1/0
6/1
60

.506

190.4
184.9
Pecan
2/0
6/1
60

.554

234.2
227.9
Filbert
3/0
6/1
60

.607

288.5
281.4
Buckeye
4/0
6/1
60

.666

356.5
348.5
Hackberry
266.8
18/1
60

.711

354.8
346.8
Alloy 6201-T81
Hornbeam
4
7/w
30

.310

62.1
60.1
Linden
2
7/w
45

.406

96.1
93.3
Oilnut
1/0
7/w
60

.518

166.1
160.0
Waterash
2/0
7/w
60

.567

203.3
196.4
Shellbark
3/0
7/w
60

.622

249.4
241.4
Planetree
4/0
7/w
60

.683

307.3
298.1
Email: 623227522@qq.com
Tel: +86-18637911633
Fax: 0379-67522688