Your position :
Home
>
Products Center
>
Products Introduction
>
Power Cable
Power Cable
Power Cable :

Medium Voltage XLPE insulated Unarmoured Power Cable
Certificate:ISO 9001
Supply Ability: 3000km/Month
Packaging Details: Wood-metal Drum or Metal Drum.
Port: Qingdao / Tianjin/ Ningbo / Shanghai


Send message

ht@htcable.cn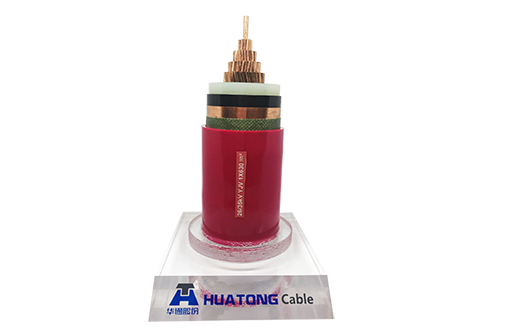 ■Application
The products applies to transmission and distribution of high voltage power lines at rated voltage 3.6/6-35kv, It is generally applied to the fields including power, construction, mines, metallurgy, petrochemical industry and communication in complete replace of oil immersed paper insulated power cable.
■Structure
Up to 35kv Power Cable Consists of Aluminum or Copper Core, XLPE Insulation, Wrapping tape, PE/PVC Sheath.
The commonly known types, Aluminium Conductor Xlpe Power Cable, Copper /Xlpe /Pvc Power Cable.
■Standard
IEC60502,designing and manufacturing special power cable according to the other standards required by the customers.
■Download

■3.6/6(7.2)kV,3.6/6.6(7.2)kV,Single Core,Al or Cu/XLPE/CTS/PVC Unarmoured Power Cable
Normal Cross Section of Conductor
Normal Diameter of Conductor
Normal Thickness of Insulation
Normal Thickness of
Copper Tape
Normal Thickness of Outer Sheath
Approx.
Overall Dia.




Approx. Net Weight
Max. D.C. Resistance of Conductor at 20℃
Al Conductor
Cu Conductor
Al Conductor
Cu Conductor
mm2
mm
mm
mm
mm
mm
kg/m
kg/m

Ω/km

Ω/km

25
6.0
2.5
0.12
1.5
17.6
0.34
0.49
1.2000
0.7270
35
7.0
2.5
0.12
1.5
18.5
0.39
0.60
0.8680
0.5240
50
8.3
2.5
0.12
1.6
20.0
0.46
0.74
0.6410
0.3870
70
9.7
2.5
0.12
1.6
21.5
0.55
0.96
0.4430
0.2680
95
11.3
2.5
0.12
1.7
23.3
0.66
1.23
0.3200
0.1930
120
13
2.5
0.12
1.7
24.8
0.77
1.48
0.2530
0.1530
150
14.6
2.5
0.12
1.8
26.4
0.87
1.77
0.2060
0.1240
185
15.9
2.5
0.12
1.8
28.1
1.01
2.13
0.1640
0.0991
240
18.3
2.6
0.12
1.9
30.9
1.23
2.71
0.1250
0.0754
300
20.4
2.8
0.12
2.0
33.6
1.48
3.32
0.1000
0.0601
400
23.2
3.0
0.12
2.1
37.0
1.81
4.16
0.0778
0.0470
500
26.4
3.2
0.12
2.2
41.1
2.24
5.27
0.0605
0.0366
630
30.1
3.2
0.12
2.3
45.0
2.73
6.62
0.0469
0.0283
■6/10(12)kV,6.35/11(12)kV,Single Core,Al or Cu/XLPE/CTS/PVC Unarmoured Power Cable
Normal Cross Section of Conductor
Normal Diameter of Conductor
Normal Thickness of Insulation
Normal Thickness of
Copper Tape
Normal Thickness of Outer Sheath
Approx.
Overall Dia.




Approx. Net Weight
Max. D.C. Resistance of Conductor at 20℃
Al Conductor
Cu Conductor
Al Conductor
Cu Conductor
mm2
mm
mm
mm
mm
mm
kg/m
kg/m

Ω/km

Ω/km

25
6.0
3.4
0.12
1.5
19.4
0.40
0.55
1.2000
0.7270
35
6.9
3.4
0.12
1.6
20.5
0.45
0.66
0.8680
0.5240
50
8.2
3.4
0.12
1.6
21.8
0.52
0.80
0.6410
0.3870
70
9.7
3.4
0.12
1.7
23.5
0.62
1.03
0.4430
0.2680
95
11.3
3.4
0.12
1.7
25.1
0.73
1.30
0.3200
0.1930
120
12.8
3.4
0.12
1.8
26.8
0.85
1.56
0.2530
0.1530
150
14.2
3.4
0.12
1.8
28.2
0.95
1.85
0.2060
0.1240
185
15.9
3.4
0.12
1.9
30.1
1.10
2.22
0.1640
0.0991
240
18.3
3.4
0.12
2.0
32.7
1.33
2.80
0.1250
0.0754
300
20.4
3.4
0.12
2.0
34.8
1.54
3.39
0.1000
0.0601
400
23.2
3.4
0.12
2.2
38.0
1.87
4.22
0.0778
0.0470
500
26.4
3.4
0.12
2.2
41.5
2.26
5.29
0.0605
0.0366
630
30.1
3.4
0.12
2.4
45.6
2.78
6.67
0.0469
0.0283
Email: 623227522@qq.com
Tel: +86-18637911633
Fax: 0379-67522688