Your position :
Home
>
Products Center
>
Products Introduction
>
Electric Wire & Cable
Electric Wire & Cable
Electric Wire & Cable :

Flat Twin Electric Wire
Nominal Voltage:450/750v
Certificate: ISO 9001
Supply Ability: 3000km/Month
Packaging Details: Wood Drum, Coil.


Send message

ht@htcable.cn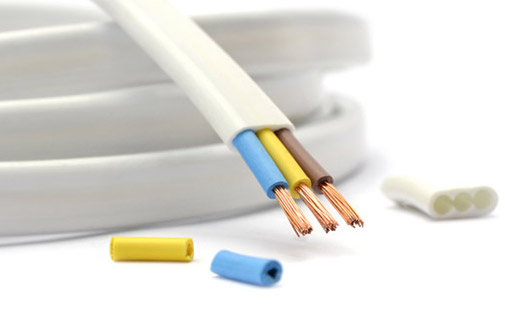 ■Application
PVC insulated cable, also called building wire, is mainly for fixed installation and widely applicable in connecting the lighting, electrical equipment and telecommunication equipment of AC 450/750V- Rated Voltage. It is both heat proof and flame retardant.
It applied to electrical appliances, instrument and telecom device with rated voltage up to and including 450/750v. The main features of the flame retardant cable or wire is hard to catch on fire or that the continuous burning of cables is very limited when it is on fire. It applies to places with special demands for flame retardant property. Flame retardant cable is classified as class A, B, C or D. Among the 4 class, class A is the best, while C worst. Fire-resistance cable can operate normally for some time when it is burning except that it can transmit electrical power under normal condition. It is used in places with special demands for fire resistance property. Clients can select any tape of cable for practical needs.
■Structure
The cable mainly consists of Solid or flexible copper wire or aluminum wire core with PVC insulation or sheath needed.
■Property
Electrical cable is widely used as electrical house wiring, Permissible continuous working temperature of cable conductor, for type of cable RV-105 and BV-105, the temperature should be less than 105. For others, the temperature should be not less than 70℃.
■Download

■300/500V 60245 IEC 53(YZ) 60245 IEC 57(YZW) 型橡套软电缆
芯数×标称截面
mm²

20℃时导体直流电阻最大值
Ω/km
电缆外径
mm
电缆近似重量
Kg/km

铜芯
镀锡铜芯
最小
最大

3×2.5
3×4
3×6
4×0.75
4×1
4×1.5
4×2.5
4×4
4×6
5×0.75
5×1
5×1.5
5×2.5
5×4
5×6
3×1.5+1×1
3×2.5+1×1.5
3×4+1×2.5
3×6+1×4
6×0.75
6×1
6×1.5
6×2.5
6×4
6×6
7.98
4.95
3.3
26.0
19.5
13.3
7.98
4.95
3.3
26.0
19.5
13.3
7.98
4.95
3.3
13.3
7.98
4.95
3.3
26.0
19.5
13.3
7.98
4.95
3.3
8.21
5.09
3.39
26.7
20.0
13.7
8.21
5.09
3.39
26.7
20.0
13.7
8.21
5.09
3.39
13.7
8.21
5.09
3.39
26.7
20.0
13.7
8.21
5.09
3.39

10.0
11.3
12.6
7.1
7.6
9.6
11.0
12.7
14.0
8.0
8.5
10.5
12.5
14.1
15.7
8.6
10.4
12.3
13.7
8.2
8.7
10.9
13.2
15.5
17.4
13.0
14.5
16.1
9.6
10.0
12.5
14.0
16.2
17.9
11.0
11.5
13.5
15.5
17.9
20.0
11.2
13.3
15.7
17.5
10.7
11.5
14.0
16.9
19.8
22.1
204
299
405
95
109
168
254
372
505
126
144
211
327
480
663
157
235
345
475
144
169
250
386
567
782
■450/750V YC 60245 IEC 66 (YCW) 型橡套软电缆
芯数×标称截面
mm²

20℃时导体直流电阻最大值
Ω/km
电缆外径
mm
电缆近似重量
Kg/km
铜芯
镀锡铜芯
最小

最大 Max
1×1.5
1×2.5
1×4
1×6
1×10
1×16
2×1
2×1.5
2×2.5
2×4
2×6
2×10
3×1
3×1.5
3×2.5
3×4
3×6
3×10
4×1
4×1.5
4×2.5
4×4
4×6
4×10
5×1
5×1.5
5×2.5
5×4
5×6
13.3
7.98
4.95
3.3
1.91
1.21
19.5
13.3
7.98
4.95
3.3
1.91
19.5
13.3
7.98
4.95
3.3
1.91
19.5
13.3
7.98
4.95
3.3
1.91
19.5
13.3
7.98
4.95
3.3
13.7
8.21
5.09
3.39
1.95
1.24
20.0
13.7
8.21
5.09
3.39
1.95
20.0
13.7
8.21
5.09
3.39
1.95
20.0
13.7
8.21
5.09
3.39
1.95
20.0
13.7
8.21
5.09
3.39
5.8
6.4
7.4
8.0
9.8
11.0
8.0
9.0
10.5
12.0
13.5
18.5
8.6
9.6
11.5
13.0
14.5
20.0
9.6
10.5
12.5
14.5
16.5
21.5
10.5
11.5
13.5
16.0
18.0
7.2
8.0
9.0
11.0
12.5
14.0
10.5
11.5
13.5
15.0
18.5
24.0
11.5
12.5
14.5
16.0
20.0
25.5
12.5
13.5
15.5
18.0
22.0
28.0
13.5
15.0
17.0
19.5
24.5
58
78
109
143
225
300
111
140
208
295
394
713
132
167
249
355
476
864
166
203
302
433
592
1047
191
241
357
523
714
Email: 623227522@qq.com
Tel: +86-18637911633
Fax: 0379-67522688